August 16, 2018 | Industry Insights
Drones, Autonomous Vehicles on Course to Disrupt the Supply Chain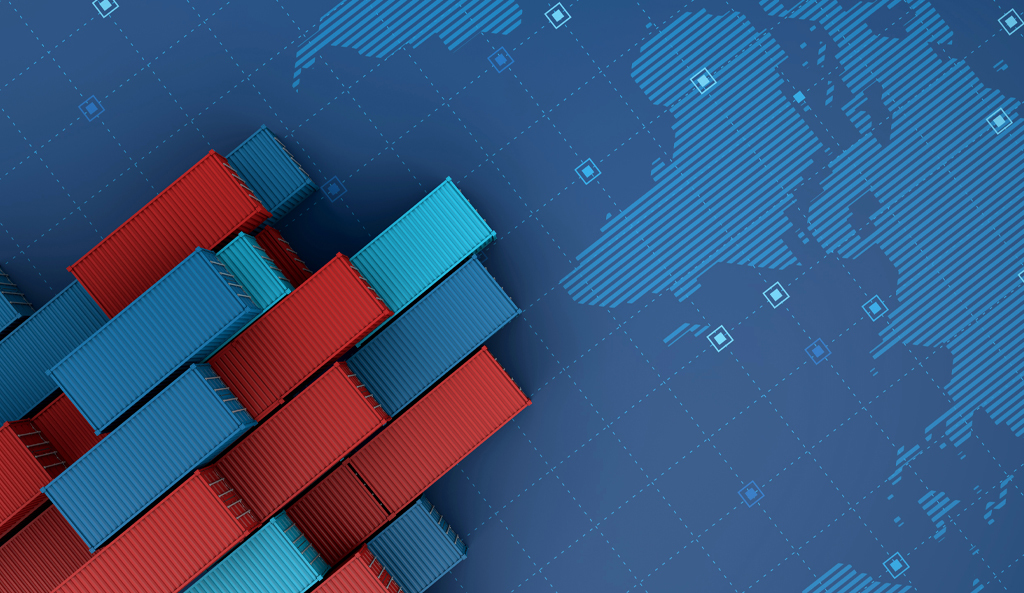 Originally published on August 6th on the TIA website by Grant E. Goldsmith.
Earlier this year, General Motors introduced its latest self-driving car – a car with no steering wheel or foot pedals – that's expected to hit the streets in 2019. GM's car is meant to drive itself with no assistance (hence no steering wheel) from the driver. This is the future – driverless vehicles. We are now on the edge of a mobility revolution that will eventually impact many parts of the future supply chain. Let's look at a few of the possibilities and future trends.
Future unmanned vehicles, and particularly trucks, will not require drivers to operate them. We will move from Optionally Manned to Partially Manned to Totally Unmanned in the next 10 years. Some questions arise: How will the ever-present concern of driver hours change? If the truck is driving itself, does the driver still have to account for these hours as "driver hours" in order to consider driver fatigue? One theory is that driver hours will be modified and then eliminated entirely in the next 5 to 10 years as trucks become more and more autonomous. This will reduce the consideration for the human limitation of driver hours and push the concerns more toward fuel efficiency and range capability, since trucks will be able to embark on longer journeys.
Will future unmanned vehicles be safer than human-operated vehicles? The answer is almost certainly yes. The Centers for Disease Control and Prevention (CDC) asserts that nine people are killed and more than 1,000 are injured each day in the U.S. due to distracted driving. Distracted driving is defined as "driving while doing another activity that takes your attention away from driving."
It is easy to understand how a driver could be distracted. I'm sure all of us have experienced distraction while driving at one time or another; some may have even had a near miss or an accident as a result of being distracted while driving.
But what if a vehicle driver never got distracted? What if a driver could be relied upon to always pay attention and always see everything on the roadway?
Most people don't realize the safest form of transportation – air travel – is almost entirely computer operated from takeoff to landing. Modern aircraft have long been able to use autopilot. Over the years, these systems have become advanced to the point where human pilots spend more time monitoring the systems than actually flying the planes. Drone aircraft technology – like many technologies – has been advanced by military operations. Drones have been referred to as "the unblinking eye in the sky."
Enhancements to vehicular sensor technology for cars and trucks have created the "unblinking eye on the road" and have done so on a 360-degree basis. Smart vehicles can now watch the road at all times, at all angles, and with an increasingly sophisticated ability to judge the speed and distance of other objects. This makes them "aware" of their surroundings at a level that no human being (even with eyes in the back of their head!) can replicate. The "unblinking eye on the road" will change the way we drive and the risks related with driving, including insurance costs.
These new unmanned trucks, that drive continuously at all hours, will need logistics and service nodes that best capture their new efficiencies. These trucks will become more and more electric and "green," requiring servicing stations that provide rapid recharging facilities as well as service and maintenance. Trucks will be able to notify an upcoming service station of its need for power/fuel, air for the tires, fluids or lubricants and so forth all electronically via a growing highway Wi-Fi network. These trucks will also seamlessly integrate with warehousing and distribution nodes that cater to unmanned trucks. These nodes will be closer to major roadways, enabling the self-driving systems to guide the truck off the highway for its delivery and back onto the highway without the need of a human to drive it along smaller local roads. The warehousing systems will have to be increasingly "smart" so that they direct the trucks to the proper bay where they will be unloaded by robot forklifts. These robotic forklifts will move the cargo into the proper storage space where it will be re-checked, inspected, and inventoried by flying drones, much like the ones Walmart and other companies are currently using for inventory purposes.
The Final Mile of delivery (literally perhaps the final mile) will be performed by smaller fleets of vehicles utilized for the Amazon-delivery model that millennials and others have come to expect. These deliveries may also be made by autonomously driven vehicles, but the delivery to your door – or  the growing delivery preference to inside your refrigerator – will continue to require human interaction. The major package delivery fleets may remain dominant in this regard, but certainly the opportunity for a growing fleet of non-owned vehicles under an "Uberization" of delivery system may become the dominant way in which packages are delivered within the final mile.
The continued popularity of this "Just in Time" supply chain will cause people, particularly less active baby boomers, to make their purchases from companies that utilize these technologies, because these consumers are making fewer trips to stores to purchase everyday items, except maybe fresh food. After all, if you can just ask Alexa to send it to you (with free shipping) and it hits your door in less than three days, why would you get off the couch, drive to a store, look for a parking space, and then muddle through crowded aisles just to purchase something that you can get with much less hassle?
Consider this: everything stated here makes absolute sense to the next greatest population of consumers in America – the millennials. This group's numbers surpassed the baby boomer generation in 2016 and their size dominance will continue to grow. Consider that both the millennials and the baby boomers are interested in logistics delivery to their door, and even within their homes, for reasons of convenience.
Ask yourself if you are thinking about making the changes needed to be a part of this future supply chain, which is now at a tipping point with the advances in autonomous vehicles. You don't want to be the person with the flip phone in a smart phone logistics world. If you are not considering the impact of autonomous systems and their future disruption to the supply chain, then consider this your wake-up call.
Grant E. Goldsmith is Vice President, Business Development with Roanoke Insurance Group. Goldsmith has served as a U.S. Army Officer in combat and expeditionary logistics. He has also spent many years as an insurance broker serving the logistics industry, and he also has worked as an early pioneer with unmanned and drone insurance products. He may be reached at Grant.goldsmith@roanokegroup.com.