July 09, 2018 | Cargo Insurance, Industry Insights
Cargo Insurance in Action: Lessons Learned in the Wake of the Maersk Honam Fire
General Average: A Little-Known but Costly Risk
General Average (GA) is an overlooked and poorly understood risk that has significant consequences for cargo owners with shipments that move via ocean vessel. A General Average loss includes possible damage to a shipper's cargo, delay to the shipment, and additional costs associated specifically with a GA incident. Complicating the matter further, the shipping line that declares the GA has the right to hold the shipper's goods until acceptable security is posted on their behalf. Shipper's interest cargo insurance can mitigate all of these expenses and complications.
So what exactly does the term General Average mean? By definition, a GA is
"A partial loss that is shared proportionally by all parties involved in the voyage (cargo owners and the vessel owner). A General Average Act occurs when any extraordinary sacrifice or expenditure of cargo, equipment or funds is intentionally and reasonably made or incurred in order to preserve lives or property involved in a common maritime adventure."
The Maersk Honam Fire provides a recent, illuminating example:
On March 6, a fire aboard the Danish shipping line Maersk Honam claimed the lives of five crewmembers and damaged millions of dollars of cargo. The $122 million ship, which was in the Arabian Sea, was carrying 7,860 containers. Within days of the fire, Maersk declared General Average and appointed an adjusting firm to collect the necessary salvage security. The firm set the salvage security in the amount of 42.5% of the CIF (cost, insurance and freight) value of the cargo with an additional 11.5% required as GA security.
In the case of the GA for the Maersk Honam, a shipper with goods worth $100,000 in a container is facing a combined General Average and salvage security bond bill of $54,000 to have their cargo released. If the security amount is not provided, in the form of cash or a bond, the vessel owner can hold the cargo and has authority to sell it in order to pay the contribution due from the particular cargo owner.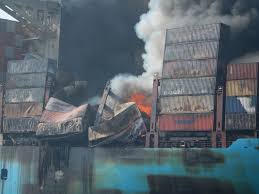 Historically, Roanoke's claims team has seen GA and salvage security guarantee amounts ranging between 10-20%, but lately as evidenced with the Honam, these amounts appear to be on the rise. This is why it's so important to carry Cargo insurance. Shipper's interest cargo insurance protects a shipper's merchandise from physical loss or damage, covers General Average losses, and facilitates the process of releasing a shipper's cargo from the steamship line.
The Maersk Honam loss serves as a reminder of the importance of investing in Cargo insurance. Roanoke Trade, an experienced specialist who understands the intricacies of Cargo insurance, can assist you in obtaining the right coverage and protecting the financial interest of your clients. Please contact your Roanoke Trade professional at 1.800.ROANOKE (800.762.6653) for more information.